H-check is a new technological device serving as a protective means and prevention against the spread of disease, not only Covid-19 but also other types of viruses and bacteria. It is suitable especially for business and government offices, schools, shops, hotels, surgeries, hospitals, retirement homes, long-term patient care units, etc.
Main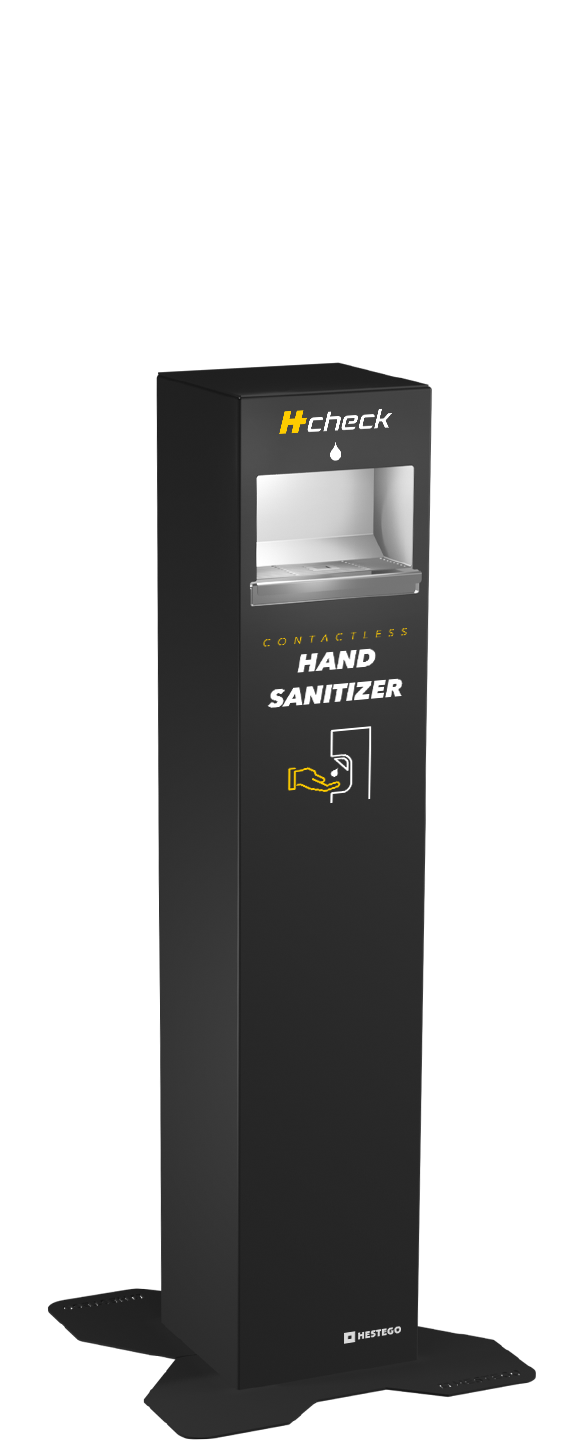 Power supply / battery powered
Disinfection tank capacity 5l (liquid)
Contactless
Optional design
Easy service and installation
Practical solution for indoor
Technical data
Dimensions Stand:

width: 250 mm, depth: 250 mm, height: 1234 mm (height including the platform)

Material of Dispensing Opening:

Stainless Steel

Dimensions Base:

width: 474 mm, depth: 476 mm, height 4 mm

Operating voltage:

10 - 12 V

Weight:

34 kg without disinfectant liquid

Power supply:

power adapter 230V/12V, 1,5A, terminal 5,5x2,1 mm, protection class III

Dispense Opening for Disinfection:

203 mm x 124 mm at the height 1016 mm, contactless

Alternative Power:

8 AA alkaline batteries or AA large capacity rechargeable batteries. The recommended minimal capacity is 2,500 mAh or the power adapter 230V/12V, 1.5A, the terminal part 5.5x2.1mm

Material of Casing and Platform:

steel DC01

Operating temperature:

+10°C up +40°C

Surface of Casing and Platform:

RAL 9005 powder coating, matting, smooth. The colour design and graphic sticker may differ from the standard, depending on the customer´s order.

Minimum Dispensing Batch:

2,5 ml
Downloads

Declaration of Conformity

Instruction for installation and maintenance

Flyer

Information in case of a complaint
We look after our customers with utmost care. If you have a question, suggestion, or comment, please do not hesitate to contact us.